ACREL Charitable Foundation
The Best of Who We Are
The goal of The ACREL Charitable Foundation is to bring the intellectual, economic and physical resources of the College members together and directing them toward tangible efforts to improve the community in which we live, through outreach and engagement with the broader legal and non-legal community of which we are a part.
ACREL Cares Committee Chair: Adam Weissburg
ACREL Scholars
In 2022, the ACREL Cares Committtee, led by Adam Weissburg, introduced the ACREL Scholars program, which awards scholarships and a mentorship program to students pursuing a career in Real Estate Law. The scholarship is intended to increase diversity in the practice of real estate law, as well as introduce ACREL to law schools and the next generation of real estate lawyers. ACREL partners with universities in one of the cities where ACREL meets in-person, allowing scholarship recipients to attend the full ACREL Program, interact with their mentors, and network with ACREL Fellows.
2022 ACREL Scholars - UIC Law
| | | |
| --- | --- | --- |
| | | |
| Emmanuel Byarm | Jeanine Jenig | Samantha Jones |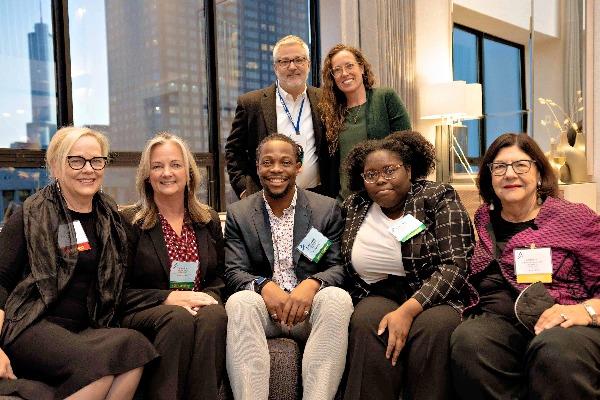 2022 UIC ACREL Scholarship recipients pictured above with ACREL President, Jane Snoddy Smith, UIC Professor and ACREL Fellow, Celeste Hammond, ACREL Cares Chair and Vice-Chair, Adam Weissburg and Misty Sanford.
ACREL Cares Projects
Since 2001, ACREL members have participated in Public Service Projects during select meetings. These events have allowed members to give back to the community, while fostering cooperation and camaraderie within the organization. The ACREL Charitable Foundation was formally established in 2002. Donations for future projects are most welcome, and may be made at any time. Click here to make a donation.

Past partnerships on volunteer projects include:
2021 - Nashville - Hands on Nashville
2018 - New Orleans - Rebuilding Together
2017 - Austin - Community First Village
2016 - San Diego - Habitat for Humanity's Revitalization Project
2015 - Baltimore - Art with a Heart
2015 - Phoenix - Phoenix Zoo
2014 - Boston - Emerald Necklace Conservatory
2014 - Kauai - One Million Trees Program
2013 - Vancouver - Vancouver Food Bank
2012 - Chicago - Chicago Food Depository
2012 - Las Vegas - Habitat for Humanity
2007 - New Orleans - Habitat for Humanity
2006 - Seattle - Progressive Animal Welfare Society
2003 - New Orleans - Habitat for Humanity
2001 - Chicago - Henson Elementary School